No one likes to fall behind on trends and color is always a huge part of them. Speaking of color trends, they are not always focused on the Pantone color of the year (hello, classic blue, we love you!). Wondering what other colors that are perfect for this fall? We have you covered.
Orange (camel, rust, amber glow). Go neon for a statement or tone it down to bring some calm to your day. This color looks especially good in outwear, tops, skirts, and jacket details.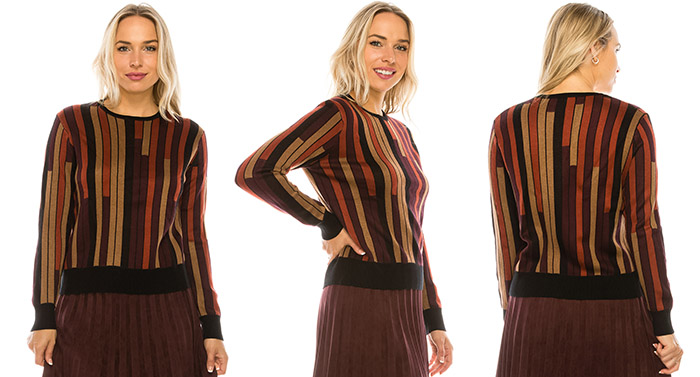 Multi Vertical Striped Knit Top
Flame scarlet and burgundy. One of the most prominent colors we have seen trending this year. Red is a classic color that is always in style, but this year it's making a full-on comeback. If you chose burgundy or bright red for your outfit, don't challenge the color with adding too much more; let the color do your outfit's talking!
Greens. From pear tone to olive and ultramarine green, there are unlimited options this fall. The number of shades lends itself perfectly to any style and skin tone.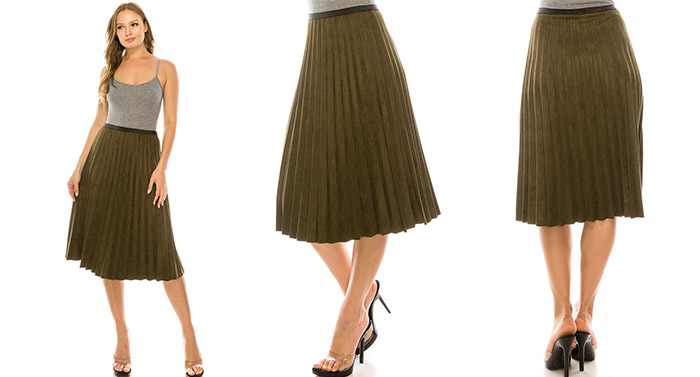 Bright pink. Pink is strong staple in vogue and every year it has a rebirth as a different shade. This fall, fuchsia takes a the top position. Don't feel you are ready for so much brightness? Try magenta and lavender. These colors bring freshness and vibrancy to your outfit while not being too loud. A recipe for being instantly modern is putting a bit of lavender to your look.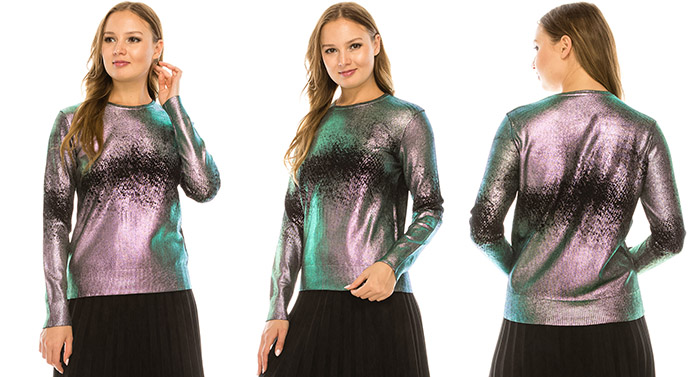 Neutral tones. This season we're almond bone, tan shades, tawny birch, gray, and black. The total black looks are still on top of things. Neutral and beige tones also are safe, stylish land if you are not ready to step out of it for brighter shades. The next thing to keep in mind is that none of these colors are specific to just clothing. You can use it for your nails or integrate this in your wardrobe with shoes, purse, and other accessories.
Now we are clear on colors. What about patterns and styles?
Silver. A lot of metals sequins and sparkles will be everywhere this fall. If you are a glam girl, try it. We saw this glittery trend a little bit this summer but now? It is a "head to toe" thing. Shine bright like a diamond, girl!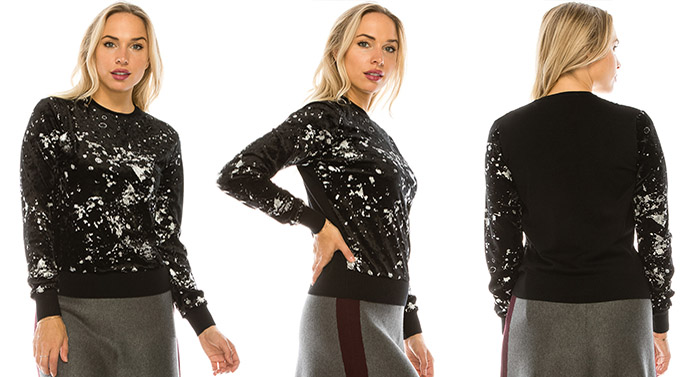 Fringe. A classics, everybody knows and loves. The associations with denim and cowboy boots are outdated. Now fringe decorates tops, skirts, and pants. This fall, a dose of fringe will be appropriate for any occasion.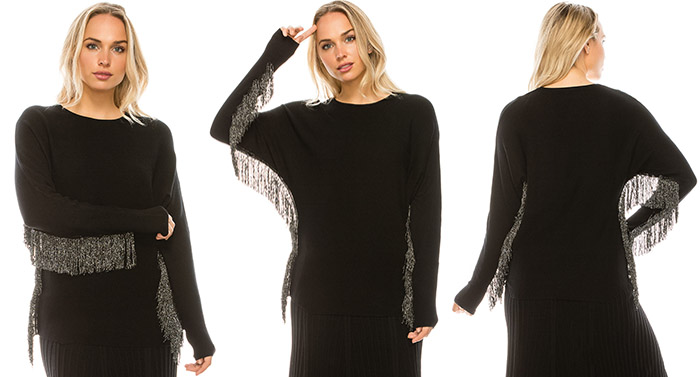 Dropped Shoulder Fringe Detail Top
Bows. Inspired by retro dressing, bows are a great way to brighten up another rainy autumn day. The bows are going a step further and appear on hats, collars, patterns on dresses etc.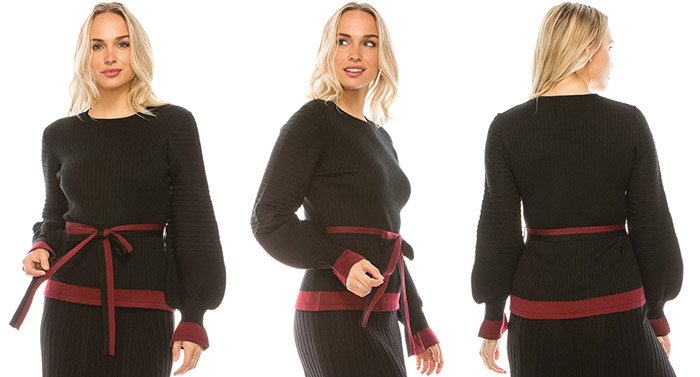 Wide Ribbed Knit Top With Belt Tie
Color blocking. Yes, this trend remains with us this fall. Why? One of the main reasons is bright colors really have the power to take the autumn blues away. Also, big, bold prints all mixed together, not matching is the move.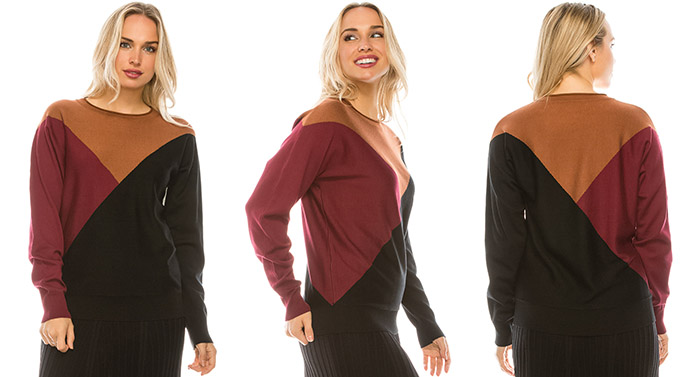 Dropped Shoulder Color Block Knit Top
Ruffles. Impressive ruffled styles can make every outfit look special. It's a trendy dramatic touch that can also be an excellent option for chic fall-weather gear.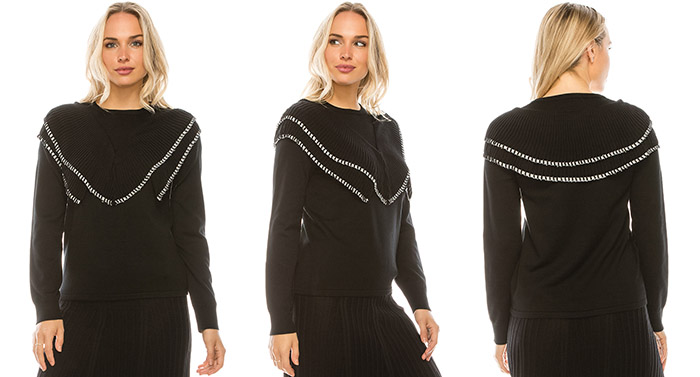 Puffy sleeves | Shoulder pads. They're a fun and feminine trend that can easily be worked into any style. Pair it with a straighter bottom to make any outfit look casual and romantic.
Matching sets. There is no need to worry about cloth combinations when you have a few stylish matching sets in your wardrobe. Unusual, inspiring prints and relaxed looks give both senses of confidence and comfort. There couldn't be an easier way to get dressed in the morning.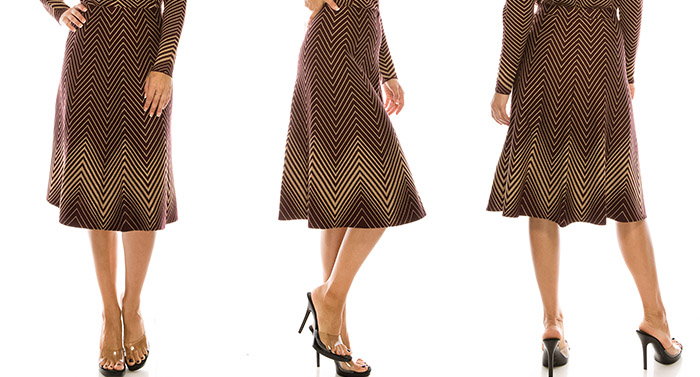 Velvet is huge with splendid kind of styles we saw on runways. The main reason for this trend is so popular is the rich texture and warmth velvet has. Thick fabric cut in ladylike silhouettes, long dresses, and soft tops will make you look fancy and feminine.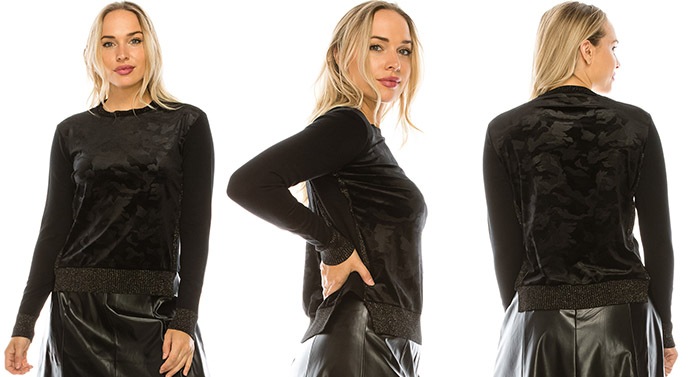 Velvet Black Camo Insert Knit Top
High-waisted flared skirt. This could be a midi or maxi skirt. Also, it can be something tiered or item that has one poof near the end. Gorgeous flowy skirts suit any figure and add femininity to the look.
Leather. When we think about fall dressing, leather outfits aren't something brand new. However, it is always fashionable, and makes you feel warm, and comfortable. Our designers make it stylish and practical with leather front, knit zip-up hoodie.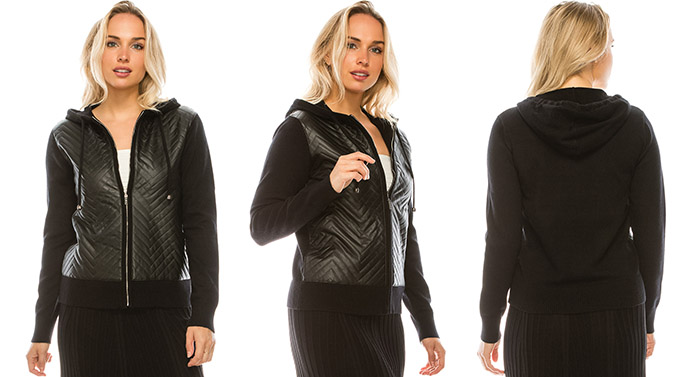 Leather Front Knit Zip Up Hoodie
Knitted Top. Knitted loose tops and T-shirts with puff sleeves are in style this autumn. It's perfect for the awkward early-autumn weather when it's too hot for a sweater and too cold for a simple T-shirt. Crochet also remains trendy. From adding a crochet detail to a collar or sleeves of the jacket, this trend will make you look unique and charming.
Polka dot. It doesn't have to be the typical polka dot. You can use every variant of this print from micro polka dots to giant ones. Take a look at this YAL stud embellished tie-neck top, which combines trendy print and bow detail on the collar. Comfort and style rolled into one.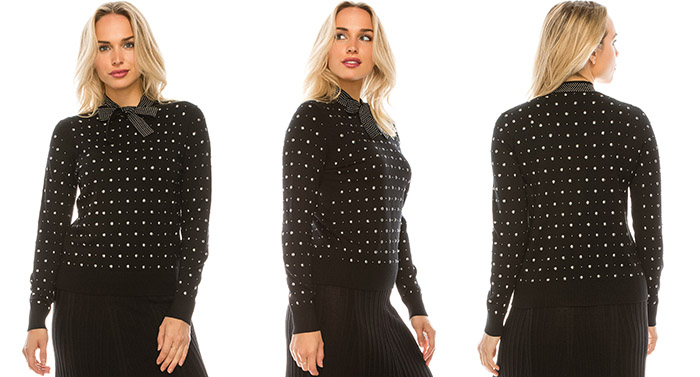 Prairie dresses. This trend has been significant for the past couple of seasons, but it still is on top. You can boldly invest in one and look trendy from spring to fall. It's the loose, and flowy dress that suits every lady. Such a super modest dress is an easy way to be on-trend and humble at the same time. The dress can make you feel special and look unapologetically romantic every day.
Pleated skirts and dresses are still here. The updated version may look like a half-straight and half-pleated one. Even though you can go with the classic pleat. It's always trendy.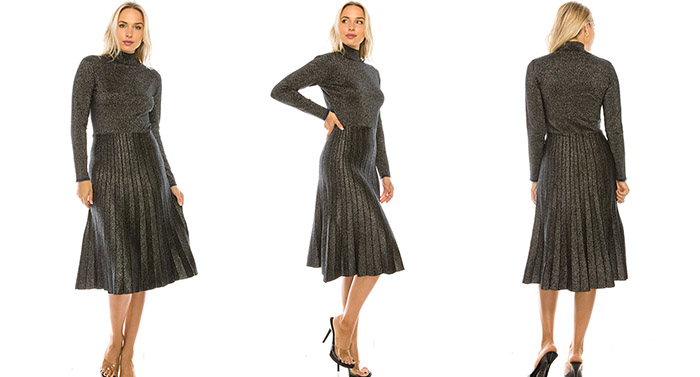 After all, a significant autumn fashion trend for 2020 is maximalism and innovative styling. Cheerful colors, child-like details, and loose patterns show us the fashion mood of this fall is optimistic, light, and fun.